New Arrivals: Women's Plus Size Tops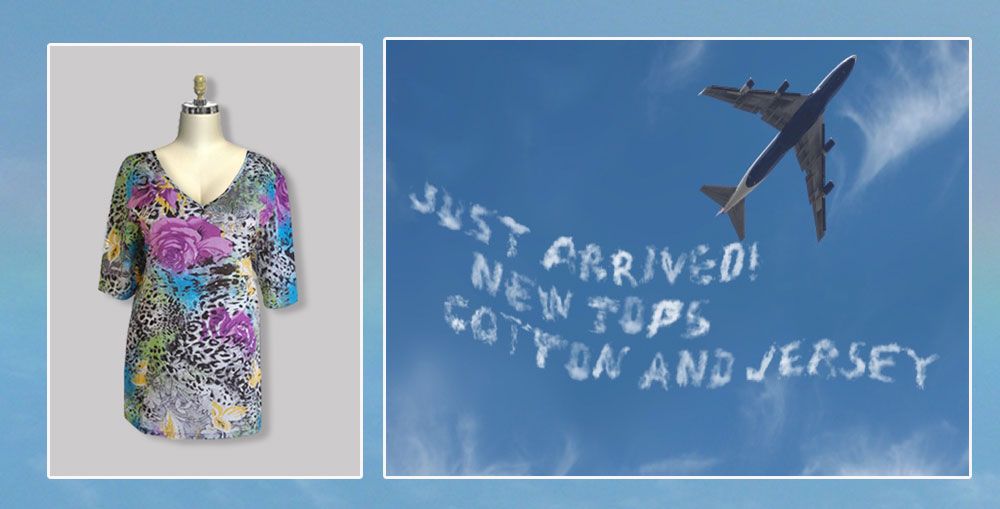 Just In, New Arrivals, What's New and Hey, look at me I am here!  I love shopping or at least browsing the internet for women's clothes, accessories, shoes and handbags.  I usually start at products that are New or have "Just Arrived".  I especially do this when I am a frequent browser on a specific clothing store for big sizes.  This is a great way to discover new trends (not to say I follow trends but its always an eye-opener for me what other women are purchasing).  It is also a location to discover fabrics and basic styles.  Most clothing designers tend to use their classic pattern and adjust it.  The alteration can be at the neckline, sleeve or the body of the blouse.  I love to see their current ideas and of course will I like it (and will it fit!)
New Arrivals will be priced at full cost.  Usually, new clothes will be limited in sizes and their quantities.  Sometimes I buy a full retail price, especially if I really LOVE it and got to have it.  But like most women, I love a sale and discount.  I have found if I sign up for the online store's Newsletter you can get a coupon at sign-up.  Sometimes their coupon is sent to you right away or it will come in their weekly or monthly eNews.  Here is a sign-up eNews site that you will get a coupon code about 48 hours after you sign up.  In fact,  they tend to send discounts up to 15% off any garments, which includes New Arrivals.

When you go to Fashion Fulfillment's Newsletter you have to choose. You have the choice of either Generous Fashions for Comfort in Fashion.  I find that Generous Fashions have more sales throughout the month, so I have signed up with them.  However, I have bookmarked Comfort in Fashion so I can go to the site whenever I have time.
Are there any women's online clothing stores for big sizes that have New Items that you like?  Let me know.  I love to file a great find!